CHILDNEPH
CHILDNEPH focuses on children with nephrotic syndrome, a relapsing disease that often occurs in young children.
Who we are:
Principal Investigator: Susan Samuel (University of Calgary)
Investigators: Steven Arora, Genevieve Benoit, Martin Bitzan, Anke Banks, Rahul Chanchlani, Allison Dart, Allison Eddy, Robin Erickson, Janusz Feber, Guido Filler, Pavel Geier, Silviu Grisaru, Anne-Laure Lapeyraque, Cherry Mammen, Catherine Morgan, Daniel Muruve, Alberto Nettel-Aguirre, Rulan Parekh, Ciriaco Piccirillo, Maury Pinsk, Pietro Ravani, Shannon Scott, Tomoko Takano, James Tee, Andrew Wade, Michael Zappitelli
Study Staff: Sudeshna Battacharya, Mikaeel Ghany, Susan McMurrich, Alanna deMello, Marta Kobryznski, Giuseppe Pascale, Maneka Perinpanayagam, Mike Pizzi, Laurel Ryan, Tracy Schwab, Jovanka Vasilevska-Ristovska, Jian Yang
Trainees: Esther Ekpe-Adewuyi (Post-doctoral Fellow), Tho Al-Aubodah (Graduate Student)
Family Representative: Andrea Galbraith
Scientific Advisory Committee (external members): Norman Rosenblum, Jonathan Craig, Michiel Schreuder, Nicholas Webb
What we do:
Nephrotic syndrome is the most common acquired kidney disease in children, but there has been very little advance in the understanding of pathogenesis or treatment protocols for decades. The CHILDNEPH Project is composed of four interdependent building blocks designed to improve care and outcomes for patients with nephrotic syndrome.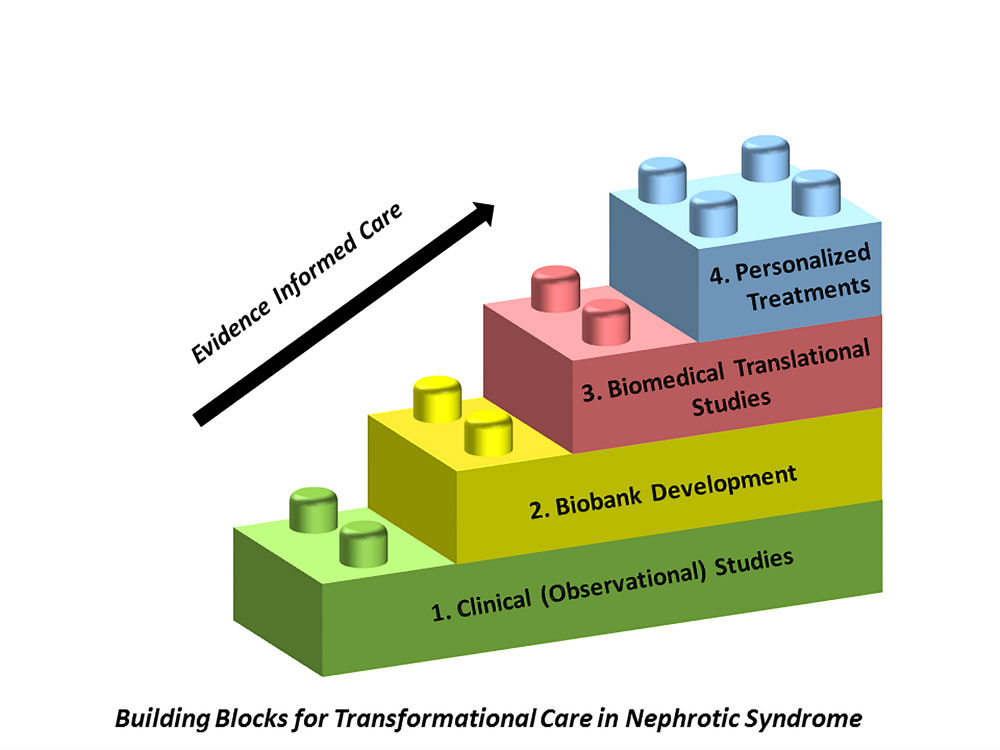 Nephrotic Syndrome Registry: We are conducting an observational longitudinal study to understand clinical course and outcomes of children with nephrotic syndrome in Canada. We want to find out whether variation in treatment for nephrotic syndrome that exists between centres and physicians, affects patient outcomes. Over 200 patients with new onset nephrotic syndrome have been enrolled across 12 participating sites, and recruitment will end in 2020 with 400 participants (projected).
Biospecimen Repository: We are building a biospecimen repository to provide foundational information regarding biological processes that lead to nephrotic syndrome, and regarding the potential use of predictive biomarkers to improve diagnosis, prognosis and treatment of nephrotic syndrome. There is a lack of human samples for discovery research in children with steroid sensitive nephrotic syndrome, and this has been a major road block to advancing understanding of disease pathogenesis and treatment. CHILDNEPH seeks to overcome this barrier, by collecting critical blood samples during relapse and remission of nephrotic syndrome.
Translational Medicine Research Program: We want to address the most vexing issues in the management of steroid sensitive nephrotic syndrome – how to accurately identify those who will respond to steroids, what is the relapse risk, and which steroid sparing agent will work best in which patient. To answer these questions, we are building an exciting translational medicine research program, by bringing together complementary and synergistic collaborations between biomedical and clinical nephrology researchers in Canada and internationally.
Personalized Treatments: Our work will lead to the development of risk prediction models for treatment response and prognosis, and the use of advanced biomedical technologies and therapeutics to provide a personalized approach to care of patients with nephrotic syndrome, and ultimately improve patient outcomes and experience.
Join a study:
Would you like to help:
Build a registry for patients with nephrotic syndrome?
Identify differences in treatment for children/youth with nephrotic syndrome between different nephrology centres across Canada?
Assist us to develop strategies to optimize our care to patients?
To provide samples for a paediatric nephrotic syndrome biobank (blood, urine, saliva), which will drive future biomedical research in nephrotic syndrome?
If you have a child (or children) between the ages of 1 and 18, diagnosed with nephrotic syndrome at a pediatric nephrology clinic and are interested in participating, please contact Maneka Perinpanayagam (403-955-2467).
Study updates (downloadable PDFs)
Contact:
Susan M. Samuel, MD MSc, Principal Investigator
Phone: (403) 955 7950
This email address is being protected from spambots. You need JavaScript enabled to view it., Project Coordinator
Phone: (403) 955-2467
Find us on twitter @childneph